For your convenience, the dentist specialists and the team at Hearthstone are pleased to accept a variety of dental insurance benefits plans. Our front office staff is more than happy to review your plan with you to determine your best options, resources whether or not you have dental coverage.
Dental Insurance Accepted
How Dental Insurance Works
All dental insurance plans are unique to the respective individual and their circumstances. You may even notice your coverage in San Antonio may be somewhat different from your friends and neighbors. However, there are a few basic guidelines that apply to nearly every dental benefits plan.
First of all, your coverage may be limited. This means that there is a specific dollar amount that your insurance will pay toward you and your family's dental health care. Secondly, this limit is tied to a specific time period. Most plans begin on January 1 and end on December 31 of any given year. If you do not spend all of your benefits up to the limit, then the remainder is lost. Benefits do not roll over to the next year. Therefore, it is in the best interest of your oral health as well as your wallet to use your benefits fully within a calendar year. If necessary, we can work with you to schedule covered procedures so that you do not exceed your dental insurance limit. Finally, you will likely need to satisfy an annual deductible and present a copayment fee at the time of service.
In-Network vs. Out of Network
Regardless of your in or out of network status, periodontist Dr. Sehlke and endodontist Dr. Greer will be able to save you money on your dental care from a long term and holistic perspective to maximize your insurance benefits without compromising on quality and cost of care. As a specialty practice, we are not limited to pre-negotiated fees for covered services. This allows us access to use premier technology to preserve your smile while staying mindful of cost and additional fees that might be encountered in final restoration.  
Even if we are not in-network with your dental insurance plan, you can still receive high-quality care and coverage for your visit. We offer a number of different interest-free options to help you receive the care you deserve and need. But no matter your situation, our team is here to file any necessary paperwork and claims on your behalf.
Financing Options Available
Many of our patients, with and without dental insurance, take advantage of the financing available through Sunbit and CareCredit to use towards treatment in our office.
Sunbit uses a quick and convenient application process to qualify through their website. Sunbit determines approval based on creditworthiness and offers rates from 0-35.99% APR with multiple loan term options.
Visit the Sunbit website to learn more and
Apply
.
We also accept CareCredit at Hearthstone Dental Specialists to use towards dental services provided by our office. A CareCredit credit card allows you to get your necessary health and wellness treatments now and pay for them later as monthly payments. Qualification is contingent on credit approval by CareCredit. Once you qualify, you can begin making purchases and choosing the payment plan that works best for you.
Visit the CareCredit website to
Apply Now
or contact our office for more information!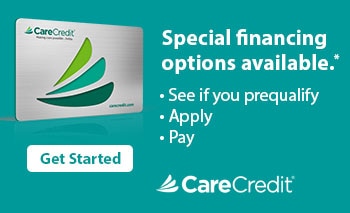 We accept most major credit cards. Patients with Flexible Savings Accounts or Health Savings Accounts may also be able to apply those towards treatment at Hearthstone Dental Specialists.